Holiday Homes in Jaipur
Stop Searching and Book A Holiday Home in Jaipur With Olive!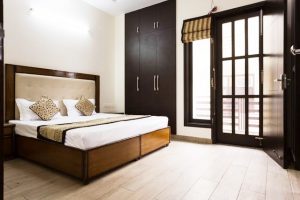 Olive is home to a number of personalized holiday homes Jaipur. We can offer a variety of apartments in which you can stay for a couple of days or as long as a few months. Fancy a Holiday Home Jaipur for a luxurious getaway? Olive features a number of one, two and three bedroom holiday homes for you. Whether you are on your honeymoon, business trip, or you are traveling with family or friends, Olive will have the right holiday home for you in the Pink City.
Our collection of holiday homes has been managed by a team of experts with several years of experience. We offer finest of holiday homes in the most gorgeous of location. Each holiday home is inspected on a regular basis, and upgraded to ensure ultimate comfort to the guests. While staying in our Holiday Homes in Jaipur, you will have one of the most memorable stays of your lifetime. All our holiday homes have their own kitchens, fully equipped with all the appliances including microwave, toaster, coffee maker, stovetop, utensils etc. You have the freedom to cook when you want, order from a nearby restaurant, or dine out as you wish.
We are in love with everything related to Jaipur. We will also make arrangements for your business conference in the city, airport transfers, sight seeing, adventure trips and others. Just let our hospitality staff know about your wishes and requirements, and they will go that extra mile to make you happy. Each Holiday Home we have offers something unique and different. So, whether you want to stay in royalty or you want to enjoy your trip in a contemporary setting, we have the perfect holiday home as per your requirements and preferences.
Our holiday homes are hidden gems, and you will quickly find a perfect escape with us. We are continually improving our collection, and adding new features to let our guests stay comfortable and at ease. If you are traveling with children or pets, these holiday homes can easily accommodate them. You have come to the right place at Olive, as most hotels and guest houses do not allow you to let your pets stay. Your children can be as naughty as they want, as there is no one to shut them up, and they can roam freely as if they are at their own home.
When you book a Holiday Home at Jaipur with Olive, you come in contact with holidaymakers who love to give you a home away from home. Be sure to share your review with our hospitality team, so that we can improve and serve you better.