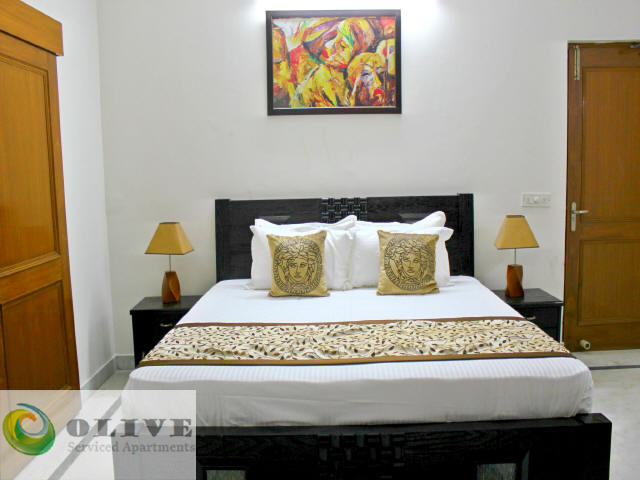 Inexpensive and Cozy Holiday Apartments in Jaipur
Olive is one of the most reputed holiday home Jaipur. As ideal alternatives to hotels and guest houses, our holiday apartments in Jaipur mean privacy, flexibility, freedom, authenticity and value for money. Book Holiday Apartments in  Jaipur with us, and enjoy all the benefits that we have to offer: spacious rooms, individual kitchen, Wi-Fi connectivity, housekeeping, laundry, towel and linen changes, etc.
Take your upcoming Jaipur break with Olive. Enjoy your apartments in our stylist holiday apartments. Whether you are traveling for a weekend or you are visiting for a long stay, we have the right holiday apartment to suit your needs. We have one, two and three bedroom apartments, in addition to studio apartments and deluxe rooms. The one that you choose depends on the number of persons visiting, and the amount of space you want to stay in. You can visit our website to view the genuine photographs of our rooms, so that you can have an idea of our elegance and opulence.
Holiday apartments are the perfect alternatives to hotels, all in terms of affordability, privacy and convenience. Most hotels do not allow you to take your pets, they have restrictions on the activities of your children, they are no smoking zones, they have gate opening and closing hours, and you are bound to eat in a restaurant day and night. All these restrictions are warded off when you choose to stay in a holiday apartment. You stay in it as if it is your own home. You have the freedom to cook your own food the way you want, you are free to move in and out as your wish, and you are glad to let your pets in too.
With Olive, find the ideal holiday apartment for your next getaway in the city. Securely book one of our Holiday Apartments in Jaipur and we are sure that you would love your experience with us. Our hospitality team has several years of experience in satisfying the needs and wishes of our guests. Whether you are a vacationer, a business traveler or a student, you can book an apartment, no matter how long you are going to stay. You can make your payments on daily, weekly or monthly basis.
Our Holiday Apartments in Jaipur are a great trade for small hotel rooms. All your family and friends can stay together in the same apartment, just as you do in your own home. No matter what's your purpose of visiting Jaipur, you will discover the many advantages of booking a holiday apartment with us.