The Family Brand of Vacation Rentals Jaipur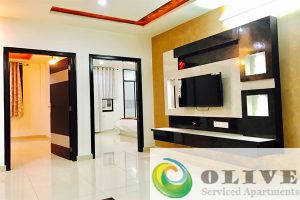 Through Olive Vacation Rentals Jaipur, we offer you a chance to enjoy a unique local experience in the diverse variety of the city. Backed by a highly experienced hospitality staff, we have become one of the most reliable names in the hospitality industry of Jaipur. We bring you a distinct selection of one, two and three bedroom apartments, studio apartments, deluxe rooms and others, that you can choose from as per your personal requirements and preferences. For instance, if you are traveling as a couple, a one bedroom apartment would suffice you, but if you are traveling with friends or family and kids, then you may need to take two or three bedroom apartments.
In Jaipur, we offer a number of vacation rentals for both long term and short term. With several years of experience in the same industry, we have been providing Vacation Rentals Jaipur to our guests in the form of a diverse range of amenities, including individual kitchen, towel and linen changes, housekeeping, laundry, Wi-Fi connectivity, Tata Sky channels on TV, etc. You have the freedom to cook your own food in the individual kitchens in our apartments, fully equipped with microwave oven, coffee maker, stovetop, cookware and other necessities.
Our matchless selection of expertly managed vacation rentals fit the requirements and lifestyle of every family or group of travelers. Whether you are traveling on leisure, medical or business purpose, you will find a vacation rental exactly same as your needs. Featuring sufficient space and all the comfort you would expect in your home, you are free to relax and have some quality time with your family or friends. Even if you are a group of 2-3 couples, you can stay in the same apartment, and still have your own separate rooms.
Our team offers a wide variety of distinct Vacation Rentals Jaipur, each offering all the amenities to let you feel the right experience in the royal city. Spend a weekend or a month living among the locales in a vacation rental in Jaipur. Explore the city's vast network of pink streets and forts, just as the captain of your own itinerary. Bring your friends and family together in a spacious Olive vacation rental.
As far as customer satisfaction and service apartments are concerned, we ensure that you will enjoy and relax in the serene environment of Olive vacation rentals. Our industry experience means that you may be confident and comfortable in the vacation rental you book with us. Our apartment rentals are professionally mana ged and hand-picked to ensure ultimate ease and comfort for our guests.