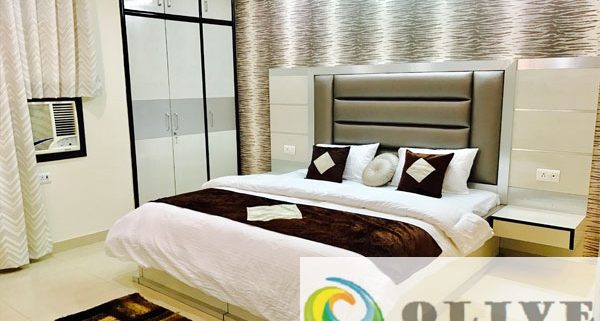 Known by its charming nickname "Pink City", Jaipur is the capital of Rajasthan, a state in northwestern India. The city lies some 260 kilometers southwest of the Indian capital, New Delhi. Visit Jaipur will immerse you in the heart of an incredible heritage, an unforgettable adventure, entertainment and vibrant scents.
To help you live a memorable trip, discover now the must-sees and more to visit in Jaipur when you are living at the nearest Service Apartments Jaipur, the breathtaking capital of Rajasthan!
The City Palace
Consisting of two palaces, Chandra Mahal and Mubarak Mahal, the City Palace is a complex of sublime buildings, courtyards and flower gardens. Built under the impetus of Maharaja founder Jai Singh II, the palace complex is beautifully ornamented with ornate pillars, walls covered with intricate and colorful patterns and carved doors. It lies to the northeast of the city and is a must to visit in Jaipur!
The forts of Jaigarh and Nahargarh
Neighbors of Amber Fort, the forts of Jaigarh (north) and Nahargarh (south) form a superb defensive complex: we recommend visiting these two fortresses-palaces too! Each one will give you a superb view of the region, from their ramparts.
The Palace of the Winds
The HawaMahal is one of the most emblematic monuments of the beautiful pink city! Built in red and pink sandstone, the palace is located near the City Palace, bordering the royal harem. The palace takes its name from the walls and windows that allowed drafts, perfect for cooling the building during the hot summers of the region.
The PannaMeenaKaKund
Located in the nearby town of Amer, close to the Forts, the PannaMeenaKaKund produces a hypnotic effect on the traveler! Like a painting by Escher, the stairs are built in a symmetrical shape, which almost makes anoptical illusion. If it is forbidden to go down the stairs to the pool below, you can still enjoy your visit to capture perfect shots with your camera!
Local markets
Impossible to visit Jaipur without getting lost in its bustling streets and bazaars! Only there you will be able to appreciate the local craftsmanship. Your walks will allow you to acquire beautiful souvenirs: jewels, sculptures or handmade clothes!
JalMahal or the Palace on the water
Built on Mansagar Lake, this stunning palace combines Mughal and Rajput architecture. At sunset, you can admire wonderful scenes with the palace that stands out on the water, as if it emerged, almost engulfed.
Where to stay in Jaipur
If you want to visit Jaipur, know that the possibilities of housing are numerous. There are many areas for housing and hotels and Service Apartment in Jaipur. It is particularly recommend the Old Town or the new modern center.
https://oliveserviceapartmentsjaipur.com/wp-content/uploads/2017/10/5-1.jpg
400
600
Olive Jaipur
https://oliveserviceapartmentsjaipur.com/wp-content/uploads/2017/01/Olive-Service-Apartments-Jaipur-logo-300x138.png
Olive Jaipur
2019-11-18 06:27:22
2020-05-08 16:08:57
Jaipur and the Best Discovery