Serviced Apartments for Jaipur Business Travellers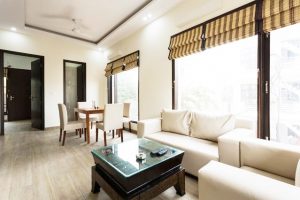 Business travelers would agree that there are more benefits to staying in serviced apartment in Jaipur than staying in a luxurious hotel in the pink city, which many business travelers prefer for the longest time. As a regular business traveler, you can pretty much say that having just a bed for sleep and a little space for work is already enough instead of paying for the luxury that hotels can offer but you cannot fully enjoy. Obviously, full service hotels for business travelers can indeed provide more value for the money that they shell out for the sake of luxuries that are not really used and fully maximized.
Of course, business travelers nowadays would also like a time off from work in a different place by going to the gym or a bar. The good thing is, serviced apartments are also equipped with these things that would give hotels a run for their money.
Moreover, serviced apartments now already have conference and meeting facilities so you can now facilitate business meetings or meet with your colleagues. It seems like that after you conduct these meetings and conferences, you are just a few meters away from your bed.
More importantly, serviced apartments also take pride with the same internet connection and satellite televisions just like hotels do. Now you can take the time to spend your free time with family over Skype or other video messaging services and be updated with the news from the news with the satellite television.
Serviced apartments are definitely a go-to place for many business travelers nowadays. Now they can save money from their business while getting the most from the working in a different place. Plus, it seems like they are also staying in hotels because they pretty much have the same services except the difference in the cost.
This is why we are seeing an increasing influx of Corporate Executives with offices in Jaipur, that are opting to use our Serviced Apartments as an alternate to their regular business hotels. We have also tied up with quite a few businesses where we are running dedicated serviced apartments for their employees in Jaipur.
So if you are a company or an individual with business interest in the city and travel to Jaipur frequently, please do get in touch with our Area Managers and they will be able to create a customized Stay package for all your accommodation needs in the pink city!